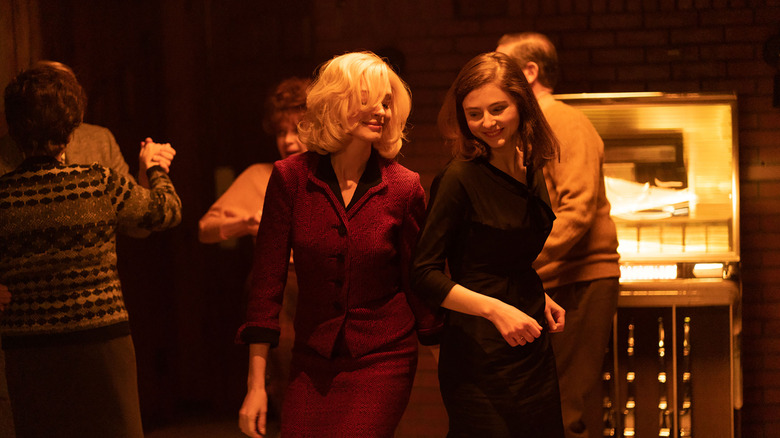 Anne Hathaway won an Oscar for her work in "Les Miserables," but her performance in William Oldroyd's "Eileen" may be the best of her career so far. The actress breezes into this movie as Dr. Rebecca Saint John, a confident, Harvard-educated psychologist who takes a job at a prison in a dreary Massachusetts beach town in the mid-1960s and befriends the title character, a drab, repressed young woman (played by "Last Night in Soho" star Thomasin McKenzie) who also works at the prison. Eileen is the movie's protagonist, and she's instantly smitten by Rebecca — partly because she's the most exciting thing to disrupt Eileen's dreary life in years, but partly because Rebecca actually sees Eileen when all of her other co-workers seem to look straight through her. A blossoming friendship soon develops into a possible romance, and for a long while, it seems as if you may have seen this before.
Todd Haynes' "Carol" casts a shadow over this movie, with the similarities of a plain but pretty young lady falling for a gorgeous, confident older woman during Christmastime in New England in a period piece. If "Eileen" was content to be merely a riff on "Carol," it would have been an effective one. But the film separates itself by taking a dark, unexpected turn late in its runtime that had me pumping my fist in the theater at its sheer audacity. Suddenly, what seems like an enjoyable but familiar narrative feels as if it's been electrified, like the movie has suddenly been struck by lightning. Oldroyd lulled me into a false sense of expectation and then dropped a bomb into his movie that completely shifted the ground under my feet. I can't remember the last time I was so energized by a surprise.
Ari Wegner's Cinematography Is Out Of This World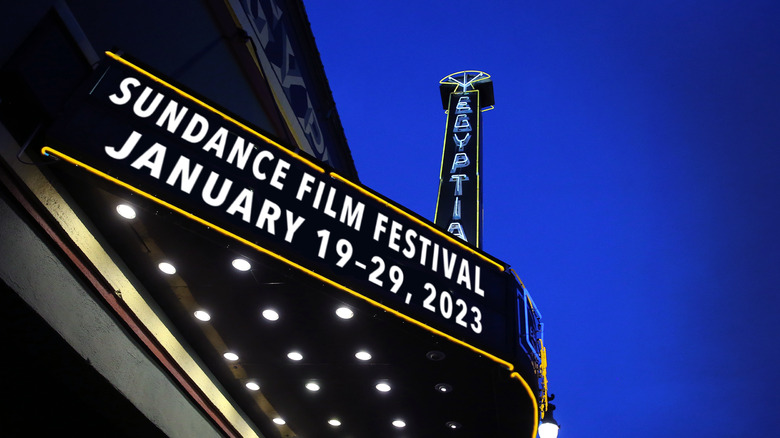 Eileen's home life isn't ideal for a 24-year-old. She left college to come home and take care of her mom a few years earlier, but after she died, Eileen is stuck dealing with her unhinged father (Shea Whigham, dependable as always), a war veteran and ex-cop who spends his days drinking himself into a stupor and waving his gun at neighbors and children. Eileen takes care of him, getting his booze and trying to keep him out of trouble, but he treats her like crap, constantly dressing her down. He goads her into trying to kill him, just like a local boy about her age who stabbed his own father to death, and Eileen truly thinks about it — there are several shocking sequences where she shoots him (or herself) out of nowhere, only to be quickly revealed as hyper-realistic daydreams.
Enter Rebecca Saint John, who's instantly objectified by her male co-workers in classic 1960s fashion. "She may be easy on the eyes," the warden says to the staff when introducing Rebecca to the group, "but I assure you, she's very smart." (Again, she's in the room when he says this.) As some of the only female employees at the prison, Eileen and Rebecca quickly bond over some shared worldviews, and Rebecca soon asks her enthralled, mousy co-worker to meet her for a drink at a local bar. There, the two hit the dance floor — first as a way to mess with some ogling locals, but then, as they dance, their bond begins to solidify into something more than friendship. Ari Wegner, who recently shot "The Power of the Dog" and "Zola" and who also shot Oldroyd's 2016 movie "Lady Macbeth" (which helped launch Florence Pugh to stardom), is back behind the camera here, and she crafts an exquisite-looking sequence outside in which the two women are bathed in the red neon light of the bar's sign during a soft snowfall, as they lean against a brick wall, smoke cigarettes, and reveal more of themselves to each other. When Rebecca invites Eileen over to her home on Christmas Eve, the groundwork has been laid for them to take their relationship to the next level. And boy, do they — but not in the way you might expect.
Every Element Comes Together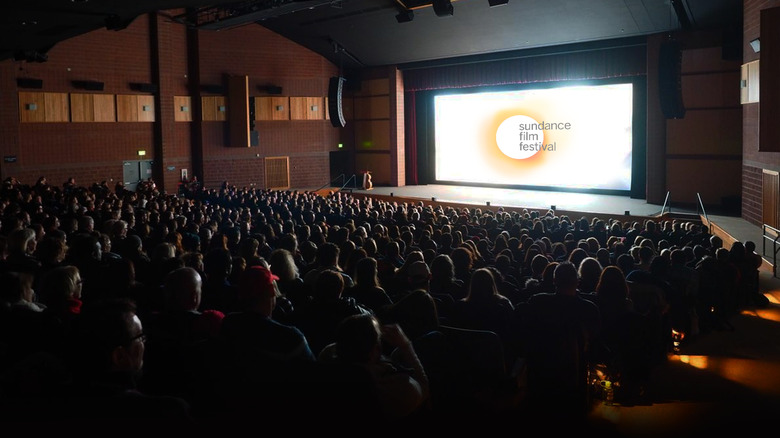 Barring her small supporting role in last year's "Armageddon Time," a case could be made that the last time Hathaway was in something truly great was "Interstellar" nearly a decade ago. Thankfully for all the Hatha-heads out there, she is absolutely extraordinary in "Eileen." This feels like a role she was born to play; she exudes charisma and has both Eileen and the audience wrapped around her finger. McKenzie is wonderful as the wide-eyed protagonist, sucked into the gravitational pull of this magnetic new figure in her life. The two of them have killer chemistry playing kindred spirits in a world that frequently underestimates them.
This is the second movie I've seen at this year's Sundance about a repressed young woman who's mesmerized into a would-be romance with a charismatic older authority figure, and this is far and away the better of the two. Every element just clicks: Richard Reed Parry's score is reminiscent of Nicholas Britell's floaty score for "If Beale Street Could Talk," another actor delivers an unbelievable monologue near the end that I won't spoil here, and Hathaway picks up the movie and walks away with it, practically looking back over her shoulder and winking while she does it, as if to say, "Remember me? Well, I can do this now." Be warned, though: While the first two-thirds are easy to watch, the movie's third-act revelation dramatically changes the tenor and uncovers a dark, extremely f*****-up secret that you may wish had stayed buried.
Disturbing, stylish, and sexy, "Eileen" is the first great movie of 2023.
/Film Review: 9.5 out of 10
Read this next: The Best Movies Of 2022
The post Eileen Review: Anne Hathaway Lights The Screen on Fire In This Surprising Stunner [Sundance] appeared first on /Film.