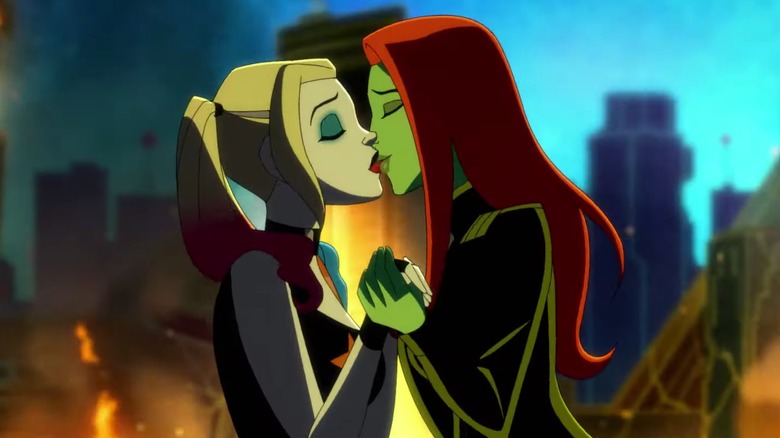 It's Valentine's Day in Gotham City, which means love is in the air and people are going at it in the streets. "Harley Quinn" is back with a Valentine's Day special this year, and in typical Harley fashion, the holiday celebrations look to be as vulgar as they are adorable. HBO Max just dropped a trailer for the holiday special, and it includes a sneak peek at Ivy (Lake Bell) and Harley's (Kaley Cuoco) first "V-D" together, Darkseid's (Michael Ironside) "cold, dead" love story, and Bane's (James Adomian) quest to improve a certain part of his anatomy.
"Harley Quinn: A Very Problematic Valentine's Day Special" appears to be jam-packed with stories of romance gone mostly awry, as Harley and Ivy's low-key date accidentally turns the whole city horny, but there's some cute stuff in here too. The Riddler (Jim Rash) seems to propose to Clock King (also Adomian), Batgirl (Briana Cuoco) sends Bruce Wayne (Biedrich Bader) bat-shaped chocolates, King Shark (Ron Funches) reenacts the pottery scene from "Ghost" with his wife Tabitha (Mary Holland), and everyone in Gotham seems to be in the mood to, as Harley puts it, do "cheesy s***" for their partners.
Watch The Trailer For A Very Problematic Valentine's Day Special
The third season of "Harley Quinn" ended in September with Harley turning full hero and Bruce Wayne getting arrested for tax evasion. While this one-off special seems pretty light-hearted, it's clear it keeps the continuity of the series going, as Barbara is sending her beau the bat chocolates in a prison cell. Meanwhile, Ivy and Harley have a date that seems to involve a horse-drawn carriage, tasty appetizers, Wonder Woman roleplay, smoldering wreckage, and a level of bedroom antics that somehow creates what appears to be a sexy contagion. Sounds like a typical day in Gotham, honestly.
Luckily, fans don't have to worry that Harley and Ivy's big day will end in heartbreak, because series showrunner Patrick Schumacker has already made it clear that he's not interested in keeping the pair apart ever again. "Harley and Ivy will never break up in the series as long as we have a say," he told The AV Club in an interview alongside fellow showrunner Justin Halpern. "That's something that we never want to touch again."
While I'm typically a "no spoilers" type of person, I actually appreciate Schumacker's reassurance that this pair is endgame, because it makes it easy to relax into something like this Valentine's Day special knowing that even if Harley and Ivy accidentally blow up the world, they're not going to blow up their relationship. Bane's thing, though — that seems like it could be disastrous.
"Harley Quinn: A Very Problematic Valentine's Day Special" hits HBO Max on February 9, 2023.
Read this next: The Best Animation For Adults Of 2022
The post Harley Quinn: A Very Problematic Valentine's Day Special Trailer: Get Pumped For The 'Best V-D Ever' appeared first on /Film.