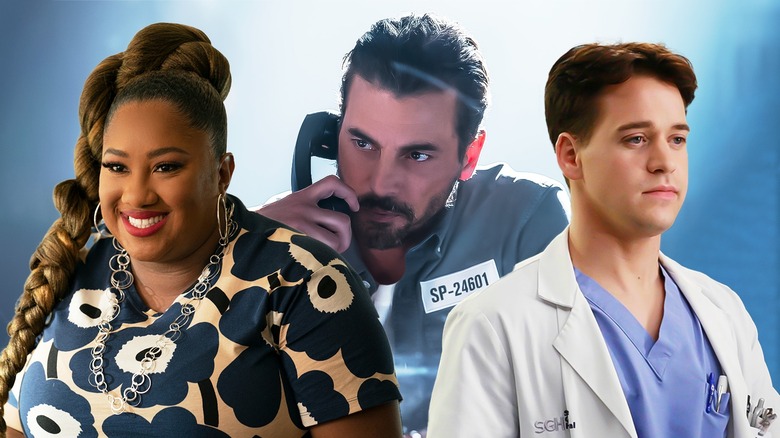 For an actor, landing a role on a TV series provides steady work in a business in which employment is usually uncertain. If that show becomes a hit, then all bets are off, with the gig escalating to something more akin to winning the lottery thanks to instant celebrity and an often giant salary. Of course, the odds of being cast in a hit TV series can be just as improbable as hitting the jackpot, which is why it can seem puzzling when a star decides walk away from a hit show. Sometimes, it's because an actor has been fired for whatever reason, but on other occasions, the exit comes at the behest of the star, who makes the risky decision to leave a sure thing for an unknown future. For viewers who earn in a year what a TV star rakes in for one episode, this can cause head-scratching, as they wonder why anyone in their right mind would choose to bail from a popular series. 
Well, they have their reasons, and they run the gamut. For proof, read on for a deep dive into why these actors left moneymakers — and what happened next.
Skeet Ulrich Left Riverdale Because He'd Grown 'Bored Creatively'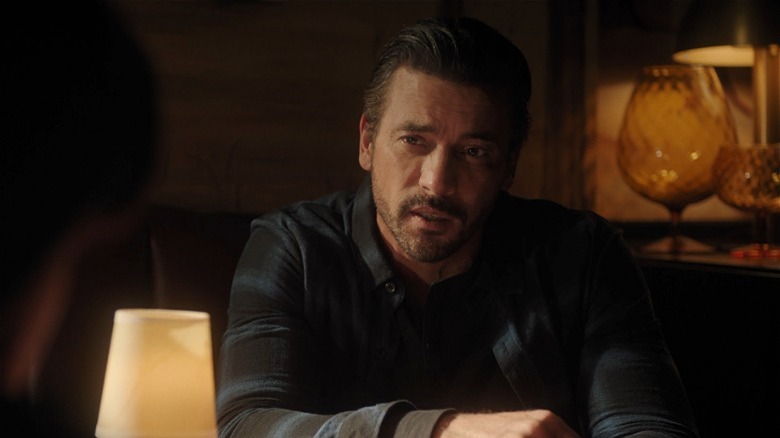 Skeet Ulrich was already known for his work in film and television (such as "Scream" and his starring role in cult-favorite sci-fi series "Jericho") when he was cast as F.P. Jones on "Riverdale," father of Cole Sprouse's Jughead. In February 2020, ahead of the Season 5 premiere, Variety reported that he and co-star Marisol Nichols (who played Hermione Lodge, mom of Camila Mendes' Veronica) announced they were both exiting the show. 
While fans pondered why Ulrich would choose to leave a hit show at the peak of its popularity, the actor kept mum — at least initially. As Variety reported just a few months later, Ulrich broke his silence and discussed his departure during an Instagram Live broadcast with his then-partner, Australian model Megan Blake Irwin. During that conversation, Ulrich offered a scathingly blunt reason for his exit. "I'm leaving Riverdale because I got bored creatively," Ulrich declared. "How's that? It's the most honest answer." As his IMDb profile indicates, it's not like Ulrich has been waiting by the phone since his "Riverdale" exit; subsequent projects have included the series #Freerayshawn for the short-lived Quibi streaming service, reprising the role of Billy Loomis for 2022's "Scream," and appearing in the 2022 film "Blood." He's also got several more projects in the works, including the films "Salvation" and "Supercell," and an episode of the AMC TV series "Parish."
Kal Penn Exited House To Join The Obama Administration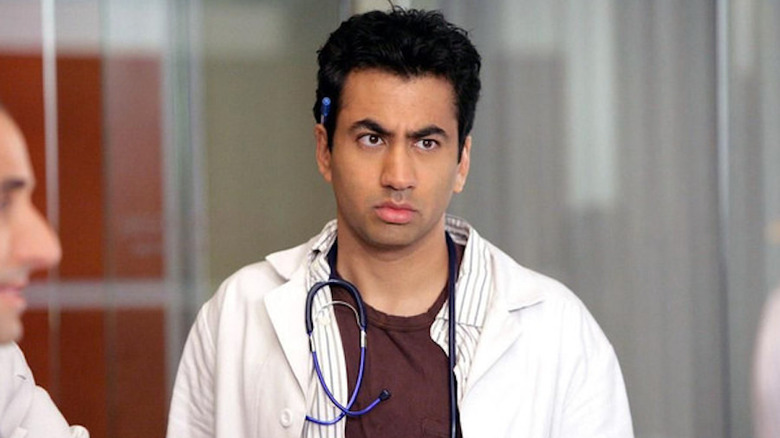 Audiences knew Kal Penn from the "Harold & Kumar" movies when he joined the cast of the successful medical drama "House" in 2007, midway through Season 4. Penn left "House" the following season, with his character — Dr. Lawrence Kutner — permanently written off when the character took his own life. Not only did Penn exit the show, but he also walked away from show business, taking a job as the White House associate director of public engagement within President Barack Obama's administration. As Penn told NPR, the impetus for saying goodbye came soon after he joined the show, when the Writers Guild of America went on strike for 100 days, shutting down production of scripted television series. During that time, his House co-star Olivia Wilde invited him to accompany her to an event featuring presidential candidate Barack Obama. 
"So I went to this event with her, really actually liked it … [and] was enamored enough by his campaign," Penn recalled. "So, I'll do three days in Iowa before the caucuses … And then he won!" When production on "Hhouse" resumed, Penn became increasingly drawn to government. "And there was an opportunity to serve in the White House, and … you know, what are you gonna say, 'No Mr. President, I have another stoner movie to make?'" Penn left the White House in 2010 and resumed his acting career; subsequent projects included "A Harold and Kumar Christmas" (another stoner movie!) and TV's "Designated Survivor."
Mischa Barton Left The O.C. Because She Was No Longer Enjoying It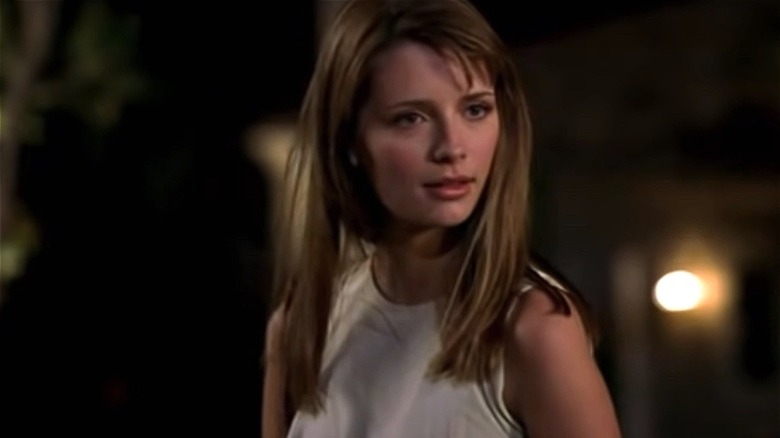 Mischa Barton was just 17 when she was catapulted to stardom courtesy of "The O.C.," a surprise hit after debuting in the summer of 2003. Barton portrayed privileged but troubled Marisa Cooper until it all came to an end in Season 3, when she decided to leave. The writers made Barton's departure permanent by having Marisa perish in a fiery car wreck.
Discussing the reasons behind her exit, Barton told E! News that the show's success led to an increased episode order, leaving her feeling overworked and exhausted. At the same time, she'd received offers for major film roles, which she was forced to turn down because of the show's relentless production schedule. "My dream was to be offered those lead roles, so that's what happened," she explained. "It just felt like it was the best thing for me and my health and just in terms of not really feeling protected by my cast and crew at that point." She elaborated in an on-camera interview while she competed in the 2016 season of "Dancing With the Stars," via ABC News. "I think I just got to the point where I was like, 'I'm not sure I'm enjoying this anymore,'" she said. "I just felt like I was in a machine and I couldn't really get off." Barton, after contending with personal issues she has discussed publicly, continues to act fairly steadily but has yet to recapture the success she experienced in "The O.C."
T.R. Knight Exited Grey's Anatomy After His Screen Time Had Been Reduced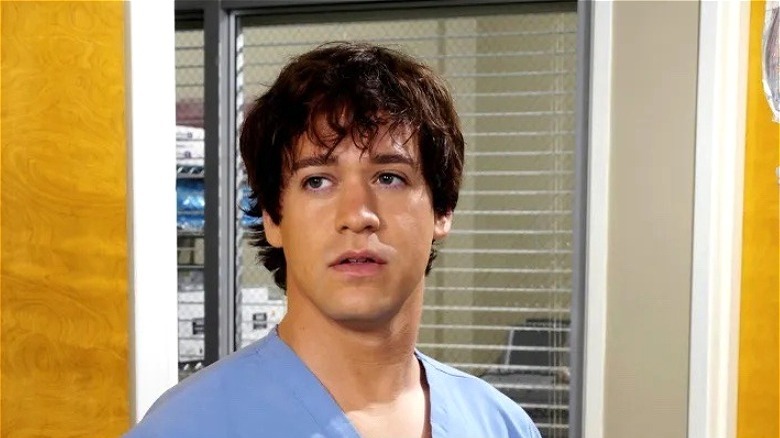 "Grey's Anatomy" became an instant hit when it premiered in March 2005, with T.R. Knight's character, Dr. George O'Malley, becoming a fan favorite. As the show's popularity grew, so did reports of friction on the set, including a fracas in which co-star Isaiah Thomas called Knight a homophobic slur during a dust-up with Patrick Dempsey. In 2009, at the end of Season 5, Knight announced he was quitting. "Leaving 'Grey's Anatomy' was not an easy decision for me to make," he told People.
Knight subsequently shared more insight into his exit with Entertainment Weekly, alluding to a "breakdown of communication" with series creator Shonda Rhimes that led his character's screen time to diminish so much that he was only onscreen for 48 minutes of the first nine episodes of Season 5. "My five-year experience proved to me that I could not trust any answer that was given [about George]. And with respect, I'm going to leave it at that," he said, somewhat cryptically. He admitted he completely understood why people might think he was crazy to leave a $14-million contract, but insisted he had his reasons. "There are a lot of people who would like to be in my position," he conceded. "But in the end, I need to be fulfilled in my work." Knight later acted on Broadway, returned to "Grey's" in 2020 for a one-off guest spot, and recently co-starred in the dark comedy "The Flight Attendant." 
Dave Chappelle Walked Away From A $50M Deal For Chappelle's Show Because 'It No Longer Felt Right'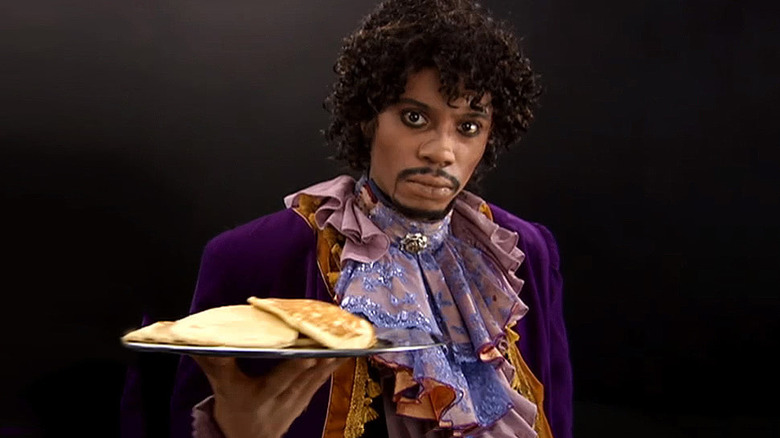 Standup comic Dave Chappelle hit it big with "Chappelle's Show," his edgy Comedy Central sketch program that debuted in 2003. "Chappelle's Show" became even more successful when the first season became the biggest-selling TV-on-DVD release ever. That led Comedy Central to offer Chappelle a $50-million deal for two more seasons. After signing, Chappelle had a change of heart, walking away from the deal and fleeing to South Africa. 
In a candid 2022 interview for Netflix's "My Next Guest Needs No Introduction with David Letterman," Chappelle recalled his decision came after filming a racially charged sketch, when he felt a crew member was laughing at him, not with him. "It's not a bad sketch, but hearing the wrong laugh … it makes you feel shame," Chappelle said (via Looper). As Chappelle told CBS This Morning, he'd come to realize "the emotional content of it didn't feel anything like what I imagined success should feel like. It just didn't feel right." And while he had no regrets, Chappelle admitted his feelings about quitting are complicated. "But 'Chappelle's Show's' like breakin' up with a girl and you still like her," he explained. "But in your mind, you're like, 'That b**** is crazy. I'm not goin' back.'" Chappelle eventually returned to standup; in 2016 he signed an even bigger deal than the one he walked away from, with Netflix paying him $60 million for three specials.
David Caruso Fled NYPD Blue Over A Salary Dispute And A Desire For A Film Career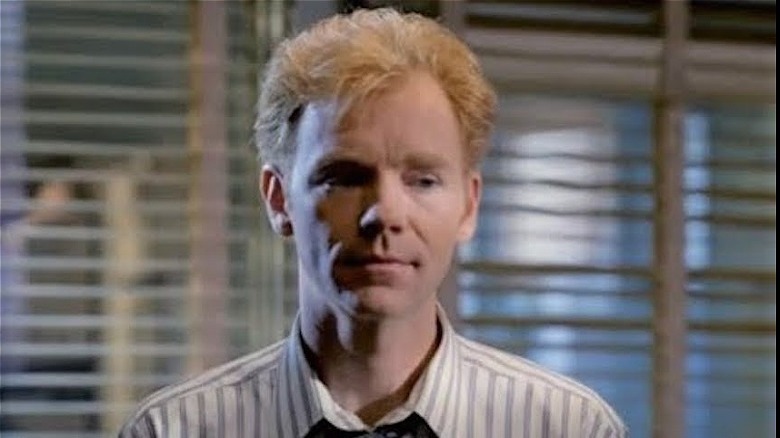 David Caruso's 1994 exit from "NYPD Blue" has become a cautionary tale for actors who think they've become too big for the TV shows that made them famous. As Entertainment Weekly reported at the time, Caruso was seeking a raise from $40,000 an episode to $100,000 per, while also desiring a movie career.  "Caruso's behavior was, simply put, cancerous," wrote "NYPD Blue" creator Steven Bochco in his memoir, "Truth is a Total Defense," as excerpted in The Hollywood Reporter. "He never said it to me directly, but the simple truth was, Caruso felt he was too good for television."
Caruso's coveted movie career never materialized; the two movies he made after "NYPD Blue" — "Kiss of Death" and "Jade" — were both embarrassing flops, earning him a Razzie nomination for Worst New Star. Caruso eventually crawled back to TV in the series "Michael Hayes," which proved to be as successful as his movies and was canceled after one season. "My leaving of 'NYPD Blue' had become notorious," a now-chastened Caruso later told the New York Times. "I became the guy who had this great opportunity and walked away from it. People still see me as this enigma. It was my fault." He eventually experienced a career resurgence when he was cast as Det. Horatio Caine in "CSI: Miami," which ran for 10 hit seasons and was, at one point, the world's most-watched TV series.
Topher Grace Left That '70s Show Because He No Longer Needed The Money And Wanted To Stretch As An Actor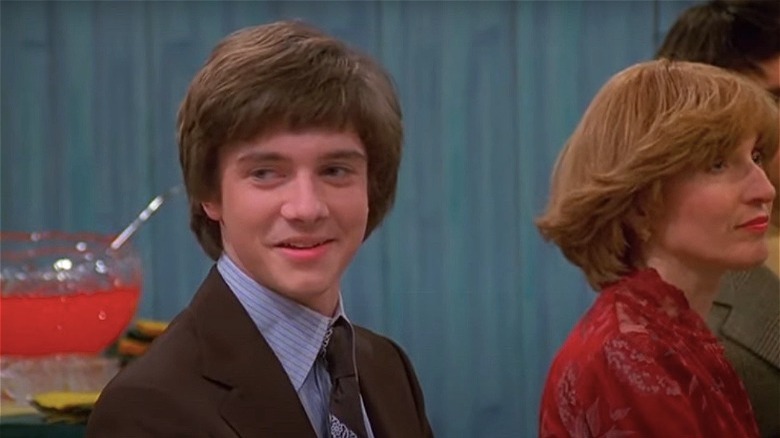 Debuting in 1998, "That '70s Show" became a huge hit for Fox, making stars of its then-unknown cast, which included Topher Grace as the protagonist, Eric Forman. The show ran for eight seasons, but Grace bailed after Season 7. Eric ventured to Africa, though he returned for the series finale.
In a 2018 interview with IndieWire, Grace explained his decision. "I was feeling really confident and good, and it occurred to me that I was really lucky to have been on a sitcom for a lot of years. I realized then that I didn't really need a lot more money," he said. He was also eager to stretch as an actor and told his agents that "I don't want to do anything but work with auteurs." While his agents weren't exactly on board with him splitting from a hit show, he would not be dissuaded. "I just want to work with people where I see their film and go: 'I will do whatever your next film is.' I don't have to sit there and decide if it's going to be good or not," he said.
Since parting ways with "That '70s Show," Grace has appeared in various film and TV projects. He portrayed Venom in "Spider-Man 3" and white supremacist David Duke in "BlacKkKlansman," stars as Tom in the series "Home Economics," and reprised Eric in the 2023 reboot "That '90s Show."
Sophia Bush Skipped Out Of Chicago P.D. Due To Alleged 'Abusive Behavior'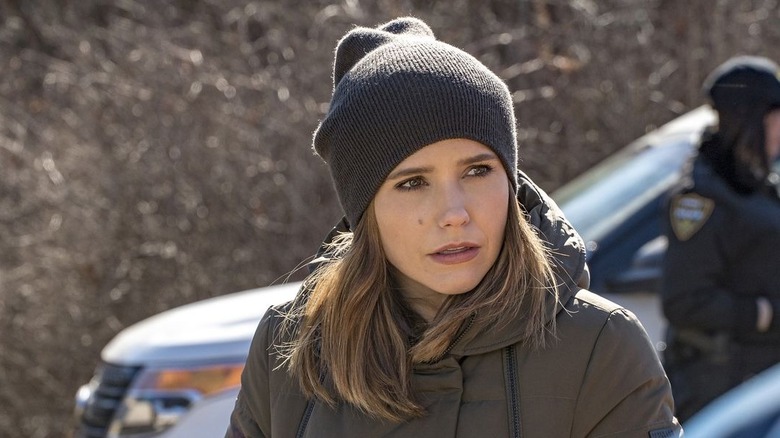 Sophia Bush had several years of the hit series "One Tree Hill" under her belt when she was cast as Det. Erin Lindsay on "Chicago P.D.," NBC's spinoff of "Chicago Fire." In 2017, at the end of Season 4, Deadline reported that Bush was leaving the show. Bush hadn't been fired, the outlet reported, but neither the producers nor Bush offered an explanation for her exit.
For some time, Bush kept mum about what led her to leave. It wasn't until more than a year later, in December 2018, that she finally broke her silence in a candid interview with Dax Shepard's "Armchair Expert" podcast. According to Bush, her exit was prompted by what she alleged was a "consistent onslaught barrage of abusive behavior" from an unnamed person or persons on the show. "I programmed myself to tolerate the intolerable," Bush told Shepard, as reported by TheWrap. "And part of the big break for me in saying, 'No. I don't necessarily know what it is, but I know that what's happening is not good for me and everything has to change.' That was a big cutoff point when I quit my job." Ultimately, she claimed that she decided to leave in order to preserve her health, both mental and physical, as she felt her "body was falling apart, because I was really, really unhappy."
Bush subsequently starred in the TV medical drama "Good Sam," which lasted a single season in 2022.
Lauren Graham Quit Zoey's Extraordinary Playlist Due To A Pandemic-Related Scheduling Snafu With Another Series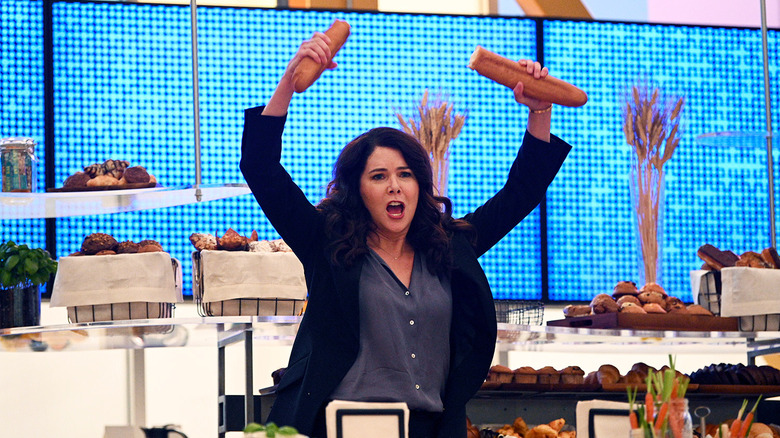 Lauren Graham had pulled off the rare feat of starring in not one but two long-running TV series — "Gilmore Girls" and "Parenthood" — when she was cast in NBCs musical dramedy "Zoey's Extraordinary Playlist." Premiering in 2020, the show ultimately ran for just two seasons. When the series returned for its second and final season, however, Graham was not part of it, her character written off by taking a new job in Singapore. 
According to "Zoey's Extraordinary Playlist" showrunner Alex Winbush, Graham's departure was the result of production delays brought on by the COVID-19 pandemic. Prior to signing on to "Zoey's Extraordinary Playlist," Winbush told The Hollywood Reporter, Graham had committed to the Disney+ revival series "The Mighty Ducks: Game Changers." When television production eventually resumed, the schedules of the two shows wound up overlapping, forcing her to bow out. As Winbush told TVLine, Graham's exit from the show was "unfortunately just a sad victim of scheduling." While the original schedules would have allowed Graham to do both shows, Winbush explained, "because of the pandemic, and the way everything went down, their shooting schedule ended up being the exact same as our show's shooting schedule … there was no way that Lauren was going to be able to do both at the same time." Season 2 of "The Mighty Ducks: Game Changers" debuted in the fall of 2022. 
Ruby Rose Left Batwoman After Just One Season Under Murky Cirumstances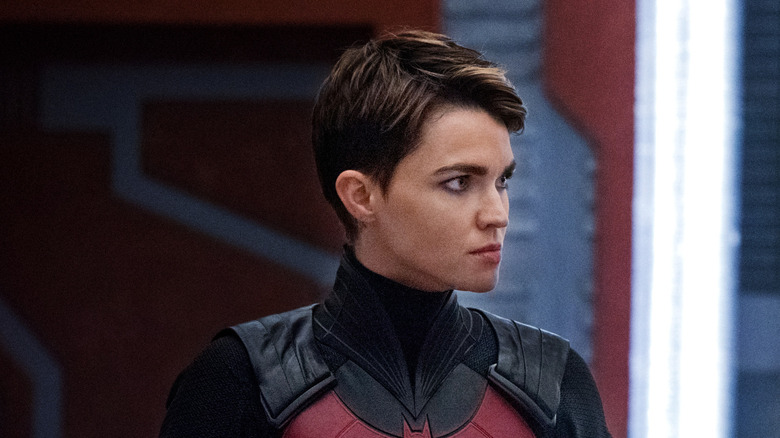 Ruby Rose shocked fans of The CW's "Batwoman" when she announced she wouldn't be returning its second season. "This was not a decision I made lightly …" Rose said in a statement obtained by Entertainment Weekly. While no reason for the departure was initially given, Rose subsequently shared some shocking allegations on social media. "I did not quit," Rose wrote in an Instagram Story post, reported EW. "They ruined Kate Kane and they destroyed Batwoman not me. I followed orders, and if I wanted to stay I was going to have to sign my rights away." In another post, Rose complained of being forced back to work too quickly after being injured by a stunt gone wrong that required emergency surgery. "I got cut in the face so close to my eye in a stunt I could have been blind," Rose wrote in another post, alleging negligence.
However, Warner Bros. Television — which produced the show — told a very different story. "Despite the revisionist history that Ruby Rose is now sharing online … the truth is that Warner Bros. Television had decided not to exercise its option to engage Ruby for season two of BATWOMAN based on multiple complaints about workplace behavior that were extensively reviewed and handled privately out of respect for all concerned," read a statement from the studio.
Since her 'Batwoman" exit, Rose has continued working, starring in such films as "SAS: Red Notice" and "The Doorman."
Katherine Heigl Stepped Away From Grey's Anatomy Because She Could No Longer Handle The Grueling Schedule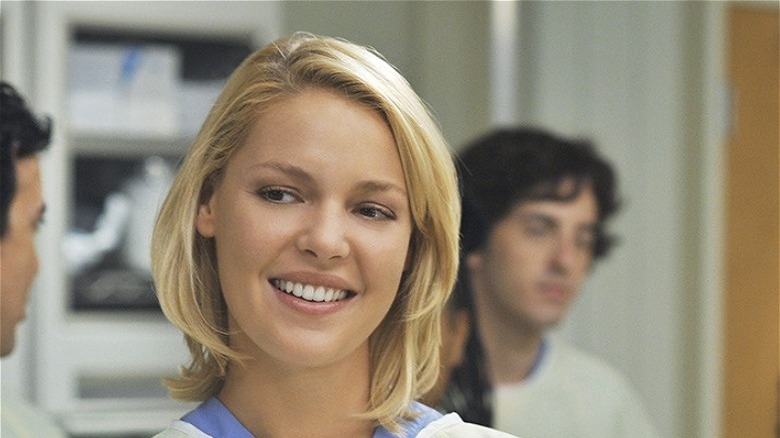 Katherine Heigl left "Grey's Anatomy" in 2010 under a cloud of controversy. There were reports that Heigl had angered the show's producers by withdrawing herself from Emmy consideration because she felt the writing for her character had been weak that season and then complaining about the drama's long working hours during a talk-show appearance. "At the time, I was just quickly told to shut the f*** up," Heigl explained to the Washington Post.
Years later, Heigl told Entertainment Weekly her decision to leave the show actually had to do with the fact that she and her husband had adopted a child, and she was feeling overwhelmed by juggling the demands of her job and her new role as a mother. "It changed everything for me. It changed my desire to work full-time," she said, recalling that she'd had discussions with series creator Shonda Rhimes about potentially reducing her role on the show in order to lighten her workload. "But at the end of the day, there wasn't a great way to compromise the work schedule that didn't negatively affect the crew or the cast," Heigl said. "It wasn't feeling fair to them or the show to ask them to bend around my needs." 
Heigl experienced a career resurgence starting in 2018 thanks to her roles in "Suits" and the Netflix hit "Firefly Lane."
George Clooney Bade Farewell To ER To Try His Luck In The Movies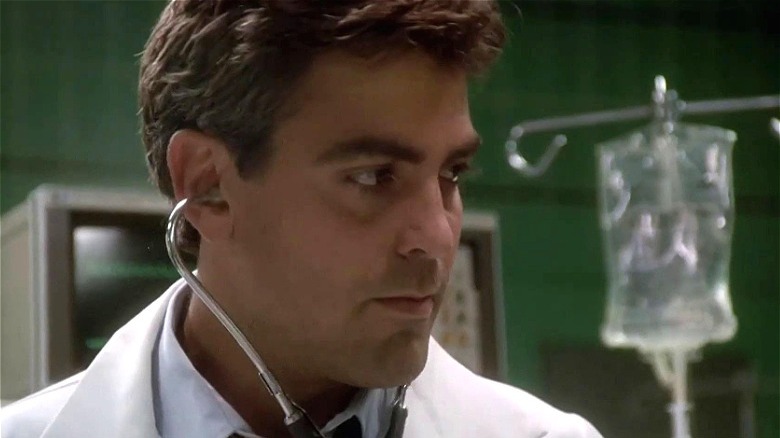 George Clooney's role as Dr. Doug Ross in "ER" propelled him to become one of television's biggest stars (and let's not forget People's Sexiest Man Alive for 1997). He parlayed that TV fame into some big-screen opportunities, balancing starring roles in such movies as "Batman & Robin," "The Peacemaker," and "Out of Sight" with his "ER" gig. 
As a result, nobody was particularly surprised when he left "ER" in Season 5 to focus full-time on his budding movie career. In fact, "ER" exec producer John Wells praised Clooney for sticking around as long as he did, telling SFGate that the actor "lost literally millions of dollars by staying on the show." That decision proved to be a good one; since exiting "ER," Clooney has cemented his status as one of Hollywood's biggest movie stars, racking up an impressive roster of credits ranging from big-budget blockbusters to arthouse indies. He's also established himself as a director and earned eight Oscar nominations (and two wins) along the way.
In the years that have passed, Clooney has continually acknowledged the importance of "ER" in his life. During the final season of "ER," he and Julianna Margulies (who had also left) returned to reprise their roles, his way of expressing gratitude. "That [show] was a job of a lifetime," Clooney said during an appearance on "The Drew Barrrymore Show" in 2022. "And it changed my career."
Lecy Goranson Left Roseanne In Order To Attend Vassar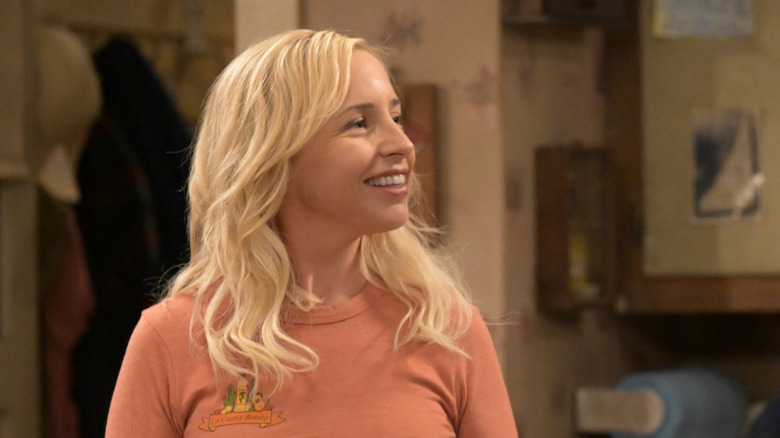 One of television's hottest sitcoms during its original 1988-1997 run, "Roseanne" tried a risky gambit in Season 6 by recasting the role of Becky, the oldest daughter of Dan and Roseanne Conner (John Goodman and Roseanne Barr). Canadian actor Sarah Chalke was brought in to play Becky after the departure of Lecy Goranson, who exited in order to attend Vassar. "I went to college, left the business, and studied English — was a poetry major," Goranson told Tribune News Service. "I actually got kicked out of college after my freshman year because I failed acting and dance. That was a really hard year."
Chalke portrayed Becky for most of Season 6 and the entirety of Season 7. In Season 8, however, Goranson's school schedule had adjusted to the point that she was available to return, just not all the time. As a result, producers went in the bonkers direction of having Chalke and Goranson alternate episodes throughout the season. When the show returned for its ninth and final season, Goranson opted not to come back, leaving Chalke to play the character for the remainder of the series. When "Roseanne" was rebooted in 2018, Goranson reappeared as Becky, a role she continues to inhabit in the series' spinoff "The Conners." Chalke also returned for the reboot — albeit not as Becky, but in a three-episode guest-starring arc as an entirely different character! — and went on to co-star in "Firefly Lane" with another actress on this list: Katherine Heigl.
Charlie Sheen Exited Two And A Half Men After His Infamous Meltdown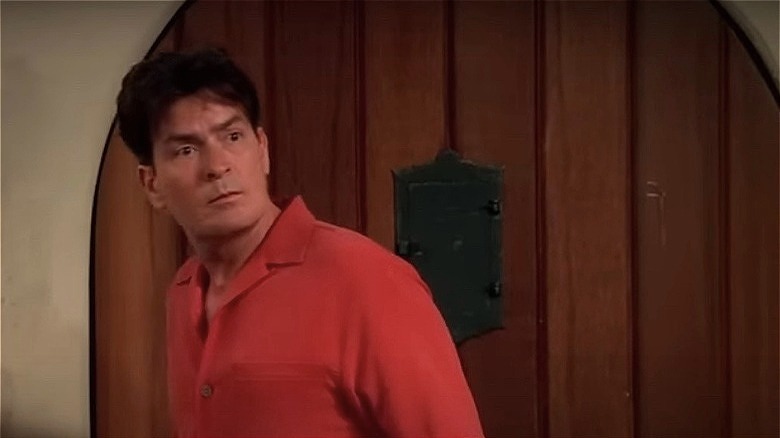 Charlie Sheen hit the jackpot when he was cast as Charlie Harper in CBS sitcom "Two and a Half Men," which premiered in 2003 and remained one of television's most-watched programs until ending in 2015. Sheen — who at one point was television's highest-paid actor — wound up parting ways with the show in 2010 in the midst of what's generally regarded as one of Hollywood's all-time biggest career implosions. 
As People recounted in April 2010, reports of Sheen's hard-partying ways filled the tabloids, with rumors of Sheen's impending exit squashed when he subsequently re-upped his contract — only to then cause production to shut down in January 2011 when he checked into rehab — for the third time in 12 months. Following reports of battles with series creator Chuck Lorre, in March The Hollywood Reporter reported that Sheen — who by then had begun issuing bizarre proclamations referring to himself as a tiger blood-drinking warlock — had been fired. "This is very good news … now I can take all of the bazillions, never have to look at whatshisc–k again and I never have to put on those silly shirts for as long as this warlock exists in the terrestrial dimension," Sheen told TMZ. Sheen was replaced by Ashton Kutcher, and Two and a Half Men ran for four more Sheen-less seasons.
Sheen subsequently returned to TV, starring in 100 episodes of the sitcom "Anger Management" between 2012 and 2014. 
Ashley Nicole Black Departed A Black Lady Sketch Show Because Her Other Projects Were Successful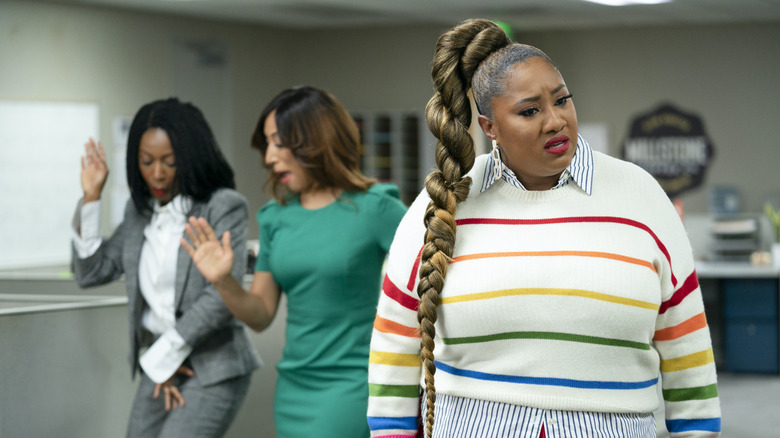 Ashley Nicole Black was a standout in HBO's groundbreaking "A Black Lady Sketch Show." Understandably, fans were shaken when Variety reported in October 2022 that she wouldn't be returning for Season 4. "I am so happy that the fantastic 'Black Lady Sketch Show' team will be back for a new season," she tweeted. "While I made the difficult decision to leave the show, I can't wait to watch what they come up with!"
As a profile in The Daily Beast pointed out, Black's reasons for leaving had to do with the fact that she was juggling multiple other showbiz jobs — all of which have become so wildly successful that she simply couldn't do them all. Those gigs included writing for the critically acclaimed Apple TV+ mega-hit "Ted Lasso" and developing a new Vince Vaughn comedy for the same streamer. Not only has she been nominated for eight Emmys, she was actually nominated twice in 2021 in the same category, for her writing in "A Black Lady Sketch Show" and "The Amber Ruffin Show" — making her one of only three people within the past five years (John Mulaney and Seth Meyers are the others) to compete against themselves for an Emmy. Another major reason behind her departure was the deal she signed with WarnerMedia in late 2021 to develop shows for the media conglomerate's various properties.
Read this next: The Best TV Shows Of 2022, Ranked
The post Why These Actors Left Hit TV Shows appeared first on /Film.