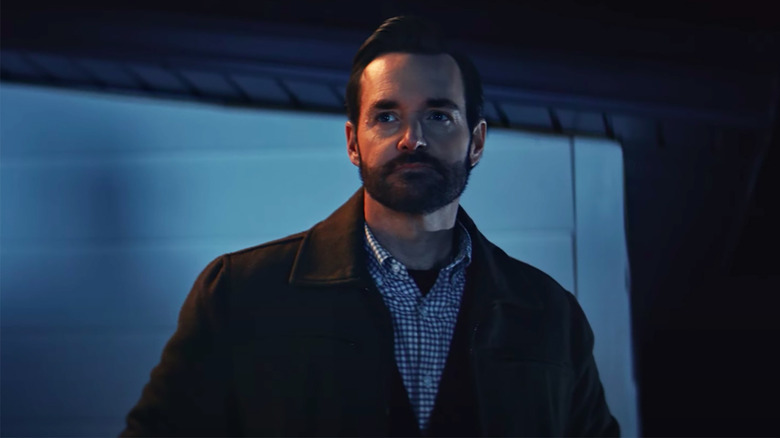 Will Forte is one of the most reliable names in comedy. Whether it's leading the absurd action of "MacGruber," lending his voice to animated comedy in the likes of "Rick and Morty" and "The Simpsons," or bringing to life various incarnations of Abraham Lincoln in "Clone High," "The LEGO Movie," and "America: The Motion Picture," you can always count on Forte to inspire plenty of hilarity. But there's also a gentle charm to his presence when he's not driving the comedy bus. That's what makes him the perfect choice to play a father in the Sundance-selected family comedy "Aliens Abducted My Parents and Now I Feel Kinda Left Out."
Directed by Jake Van Wagoner, the film follows teen girl Itsy Levan (Emma Tremblay, sister of actor Jacob Tremblay), who finds herself suddenly stuck in the middle of nowhere after her home-flipping parents move their family out of the big city. At her new school, Itsy meets the quirky but intelligent Calvin Kipler, who seems to know quite a lot about outer space. Calvin has spent most of his adolescence awaiting the return of Jesper's Comet, because the last time it passed Earth 10 years ago, it apparently resulted in the abduction of Calvin's parents (Will Forte and Elizabeth Mitchell) when he was just a young boy. Itsy sees interesting profile potential for the school newspaper, hoping to help her odds of getting into some kind of college journalism program back in NYC. But as Itsy learns more about Calvin's past, he may not be as crazy as he initially seems.
Will Forte's role in "Aliens Abducted My Parents" is a small one, appearing both in an opening flashback and an oddball ending that is right up the comic actor's alley. But the role was an opportunity for Forte to work with a delightful filmmaker with whom he struck up a strong comedic bond, and he didn't even need to read the script before agreeing to be part of the production. We talked to Forte about joining the project, whether his approach to comedy differs between programming for kids or adults, and the state of comedy in today's entertainment climate. Plus, the "Last Man on Earth" star tells us how he's still using what he learned at "Saturday Night Live" in every facet of his career, and reveals what the chances are of seeing more "MacGruber."
Note: This interview has been lightly edited for clarity and brevity.
'Thank God It Was As Good As I Thought It Would Be'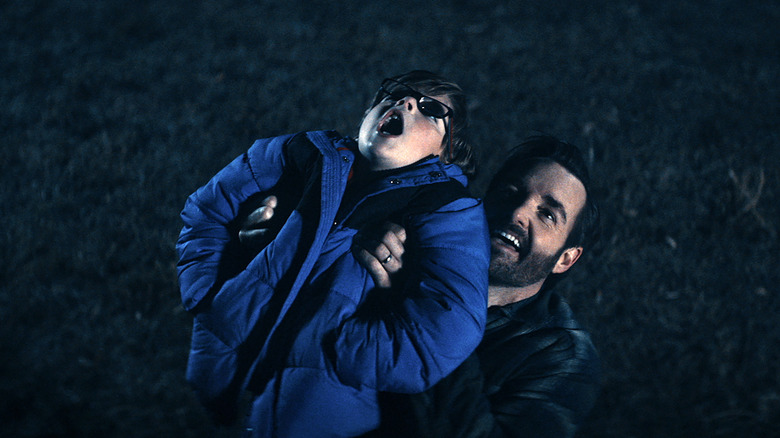 How did this project come to you, and what was it about the script that appealed to you?
Well, I hadn't even read the script when I said I would do this. I had known Jake, the guy who directed this, Jake Van Wagoner, [because] he was a PA on the movie "Don Verdean." We walked around the streets of Salt Lake City. We had some time to kill. So I said, "Hey, do you want to walk around? I was going to get some food somewhere. I don't know where, you want to just walk around?" So we just chatted for a couple hours, because there was a schedule change. And I remember just thinking, "Oh, this guy's delightful." Then five years down the road, I went to work, I went to go do a show for BYUtv called "Show Offs," and Jake happened to be one of the improvisers. It's an improvised show on BYUtv. So I met Jake there, and he said, "I was the guy you walked around with forever, back when we were making 'Don Verdean.'" I said, "Oh yeah, that's right." So we did this sketch show with this other guy, Maclain [Nelson] too, and we all had a great time together.
Then a year down the line, he asked me to go do Studio C, also for by BYUtv, which was a blast. And I had become, over the years, very good friends with Jake and Maclain. So when we were doing Studio C, he had brought up this movie that he was trying to get together. Just by then, I knew what kind of person he was, how smart he was, how funny. And I just said, "Yeah, sign me up, I'll do it." He said, "I want you to be this dad. It would only be two days of work," and that's easy for a person who you know is smart and funny, and he's a delightful person. And Maclain, the same, who's a producer on this.
So I just said, "Yeah, let me know." Then they sent me the script after I'd already said I'd do it. Thank God it was as good as I thought it would be. It's a very cute story. So I would've done this no matter what level of quality the script was at, but it was a very high-quality script, which I knew going in just because I know these guys well enough to know that they're just very smart and funny.
'It's Old And New At The Same Time'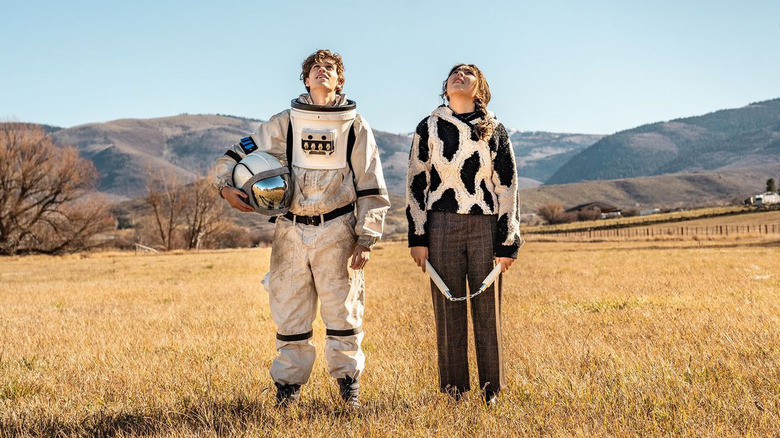 Is there a difference between what you like to see in a script when it's a comedy that's geared towards kids or one that's geared towards adults?
I think every story is so different, and I don't know that I really am looking for anything when I read something, just something that you haven't seen before. You don't want to look in and go, "Oh, this is exactly like this," or, "This is exactly like this." This is something that seems like it's uniquely from Jake's brain, and he's got such a really different type of tone. He's so funny and his brain can go to really fun, absurd places.
But I'm this filthy 52-year-old dude. I'm naked on camera, so many people have seen my butt. They're so sick of my butt. But his stuff is very clean and accessible to way more people, while still having this type of complex humor. And it can be kind of absurd. It's a really fun type of thing where I both feel comfortable, like I've done it before, but also it's different. So I love doing stuff with him, because it just feels like a comfortable but new experience. It's old and new at the same time.
Yeah, the movie, it has a little bit of an Amblin vibe by way of Sundance, kind of like the movies that studios used to make for family friendly adventures in the '80s and early '90s that they don't really make anymore.
Yeah, that's a good way to put it.
Speaking of that, how do you feel about the state of comedy right now, especially with regards to movies? Because it feels like studios have kind of abandoned comedies unless they're these big, high concept cross-genre ideas.
I don't know how to answer that, because it always seems like, certainly for the last 10 years, things have been morphing. Just the whole landscape is so different. You think about, certainly 10 years ago, there weren't a ton of movies on streamers. Now it seems like there's so many very high quality movies that are directly for streamers. It used to be you'd do movies in the theater, and then you'd be able to get them on HBO a couple months later, or Netflix, and now, it's got to be a huge blockbuster to be something that's in theaters.
It's interesting, but I'm sure everything will keep evolving, and maybe it'll rebound, and there will be a time when more and more comedies are back in theaters. Now it's a very unique experience when you're in a movie that's [in theaters]. I just haven't been a part of a movie that has been in theaters for so long, so it'll be fun seeing this at Sundance. And then there's this movie I got to be a part of, called "Strays," that's coming out. We found out it's coming out in theaters.
Oh, great!
I'm not sure if I'm allowed to say when, but it's exciting to have that. I love football. I love watching football on TV. But there is something when you go to a football game, and you walk through those tunnels, and you see the vivid green of the grass, it's so fun. And walking into a movie theater is the same way. There's something about sitting down with a bunch of people and watching a movie together, especially a comedy.
Exactly.
I'm looking forward to getting that opportunity again.
'It's Pretty Responsible For Most Of My Career Lessons'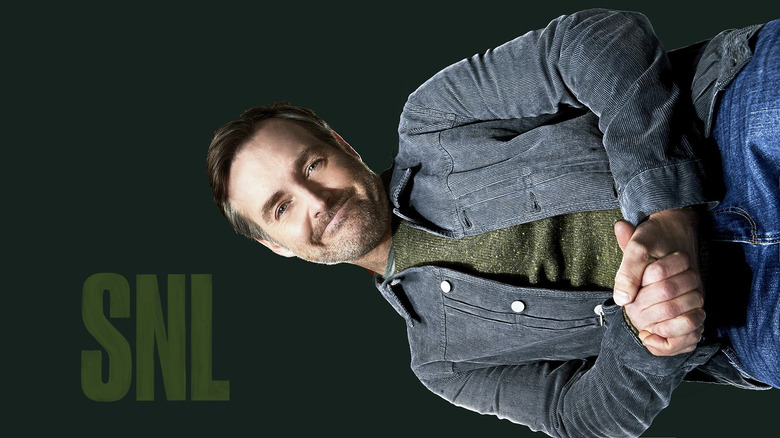 Obviously, you spent a lot of time on "Saturday Night Live," and I wanted to know if there was something that you learned during your time there that you feel like has helped you in your career since leaving the show?
Wow, man, so I've learned so many things from "SNL." I had been a writer. I was writing on "That '70s Show" and had kind of decided I'd given up on acting. I didn't have a lot of experience with auditioning or anything like that. So when I got the chance to audition for "SNL," it was just kind of out of the blue. So I was out of practice with the limited amount of acting experience I had, which was mainly just on The Groundlings stage. So I basically learned how to be an actor from that experience.
[Series creator] Lorne [Michaels] taught me a valuable lesson. I remember at the end of my third season, I almost got fired. I think it was kind of in that post-Will Ferrell [period], that was my first year, and it was his first year not being on the show — him and Ana Gasteyer had left. So I think the show was churning around trying to find its next identity. There were still a ton of amazing performers there, but the cast was very big and there was just something … it was like when the gears on a bike are searching for the next gear, it was looking to kick in. So I think Lorne was rightly trying to figure out what moves to make over a summer. You're supposed to find out in July or something like that if your contract was picked up, and he told a bunch of us that he needed to extend that period of time, which makes you nervous, like, "Oh no, why didn't he immediately know that I should come back?" And it turned out that, little by little, different people were asked back so soon, and I was the only person that they hadn't told whether I was coming back or not.
Oh, man.
When he finally called to tell me that he was bringing me back, he told me that I needed to get out of my writer brain. Every sketch that I had written for myself, I would be really going 100% at it. But he could tell that I was holding back in sketches that other people would write for me, and that I needed to take ownership over those sketches and really just put myself out there more. And I was like, "Oh, you have no idea. Whatever." 
The more I thought about it, he was totally right. I would be nervous. I'd be thinking about when I was a writer, and you wrote a script, and then you'd hear them doing it. A lot of times you'd get to a section where you're like, "That's not how it's supposed be done. It's supposed to be like this." In my head, I'd be thinking about how whoever wrote the sketch was probably back there going, "That's not right." So it made me very tentative. And that was something I learned. I just learned everything from that show — work ethic, working under pressure, being a teammate. I'm so thankful for that experience. I still look back now and sometimes realize down the road, "Oh, I think I learned that from SNL." It still dawns on me. It's pretty responsible for most of my career lessons.
MacGruber May Not Come Back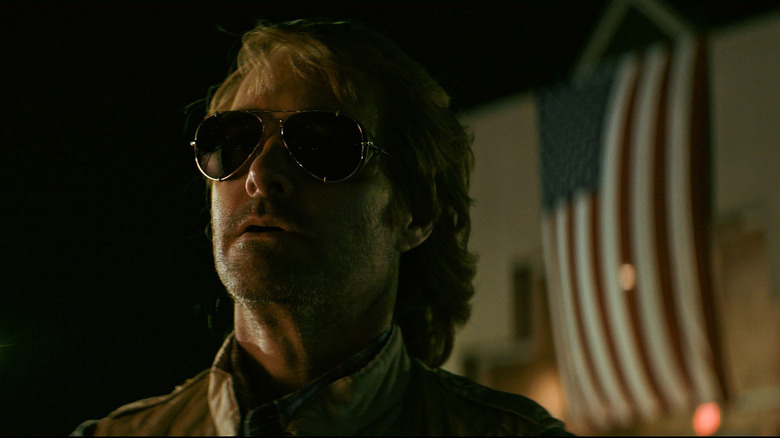 As I wrap here, can you tell me what are the chances of us getting another season of "MacGruber" at Peacock?
I would say chances are, I want to say slim. I would say that I think they would've told us by now, but at the same time, you cannot ever count out "MacGruber." Who would've ever thought we'd have gotten a chance to do a season after the movie tanked?
Yeah, exactly. Especially 10 years later.
Our desire — me and [producer] John [Solomon], Jorma [Taccone], Kristen [Wiig], and Ryan [Phillippe], and there are just so many people on the crew behind the scenes that are such a part of it, the names that people don't know, but are instrumental in the lifeblood of this thing, it's a big family and we would love to all be together again. So I would never count it out, because I would love to be with everybody again doing this. We just need to wait for the right time. And there's a very good chance that it'll never happen again, or we find some way to make it happen again, which would just be a huge blessing. We didn't think we'd get to do this last season, so anything else would just be gravy on gravy.
Fingers crossed.
"Aliens Abducted My Parents and Now I Feel Kinda Left Out" doesn't have an official release date yet.
Read this next: The 20 Most Influential Comedy Stars In Movie History
The post Will Forte Talks Aliens Abducted My Parents, Learning From SNL, and The State of Comedy [Exclusive Interview] appeared first on /Film.